snape-fest-mod.livejournal.com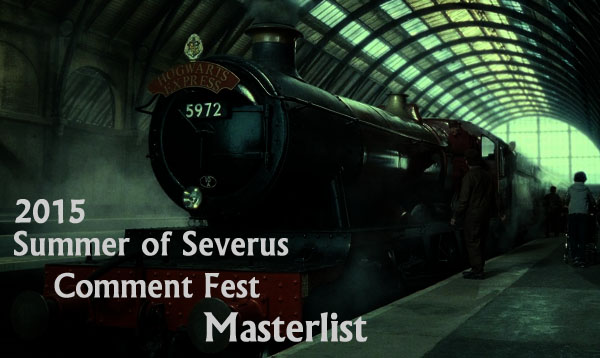 August 22nd has come and gone in this part of the world and with that, it's time for the
train to begin boarding and for a heat weary Professor to head back to his cool dungeons and find comfort in being surrounded by his books, his cauldrons, his jars of pickled cockroaches, and a steady stream of mouth-breathing troglodytes, otherwise known as children, to sneer at.


The mod would like to take this opportunity to thank our wonderful fest fillers,

teddyradiator
,

shadowycat
,

pretend_mulling
,

reynardo
,

torino10154
,

vantablack
,

hikorichan

notearchiver
,

tjs_whatnot
,

ayebydan
,

f8gamblr
,

helenarickman
,

caz251

kerravonsen

themightyflynn
and

kellychambliss
, as well as our anonymous writers, for making Severus' summer holiday a busy one! (And if, I managed to inadvertently miss someone, please let me know so I can go iron my ears and put my fingers in the toaster post haste!)
Fic
( 2015 Comment Fest Fics )
( 2015 Comment Fest Art )
The comment fest post will remain pinned to the top of the community until the end of the month, so please take a look at the offerings and don't neglect to leave a little love for the artists and authors.
And that's a wrap! Stay tuned for information on Severus' Birthday Bash! Details coming this fall!